Plumbing Video Camera Inspection
Plumbing Video Camera Inspection
Video Cameras
Video cameras have become one of the most valuable tools in the plumbing business. A plumbing video camera pipe inspection allows for a real-time visual inspection of underground sewer lines and other piping determining the condition inside the pipe. The camera also identifies grease buildup, leaks and obstructions. The inspection can be repeated after any service is performed to verify that the line has been properly cleaned or repaired. Camera inspections can go a long way in identifying all types of pipe problems commonly found in your home or business. One of the more common issues is that a root mass has obstructed flow in your sewer system. But if a sewer pipe is damaged, a section is misaligned or it has begun to collapse due to old age, a camera sewer line inspection will reveal the issue.
A Plumbing Video camera is nothing more than a tiny camera attached to a flexible rod. It fits down almost any drain and, thanks to its flexibility, can travel the curves and bends of the line. A plumber can then see what the camera is observing on a mobile device or screen. When the inspection is complete, the camera is simply wheeled back up and out of the system. 
Its uses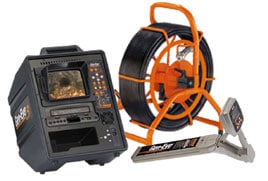 Plumbing video cameras may be used to identify pipe damage and obstructions that inhibit proper flow or create occasional or repeated backups. Plumbing video camera inspections pinpoint problems like these Broken, cracked or collapsed pipe, Offset pipe, Blockage, Corrosion, Bellied pipe, Leaking joints, Root infiltration, Off-grade pipe. These inspections can also help us prevent future problems as well! Its other uses are Video cameras have also been used to locate lost jewelry and other valuables, as well as animals that have become lost or trapped in pipes.
How It Works
To perform a video pipe inspection we will first have to create an access point to the sewer line. This is a small hole about 3 feet in diameter that will give us access to the line. We will then open up the line to access it and send through a fiber optic cable with camera attached. The images from the video on the cable are transmitted to a monitor on the outside of the sewer line. We can see in real time what is going on with the sewer line and determine where the problem is.
Advantages of Video Pipe Inspection
A video camera inspection is recommended if you experience repeated drain line backups, slow drains or clogs. Additionally, a video camera line inspection before you purchase a home will help ensure that sewer lines are free of problems that can cause headaches and expensive repairs after you move in. The only way to identify plumbing issues was with a lot of guesswork and occasionally digging up the pipes. This was; obviously, quite a bit more time consuming, expensive, and destructive. With video pipe inspection, there is no longer any need for simply guessing where a problem is, or how bad it is. Regular inspections are the perfect way to highlight any problems, or areas that may become problematic later on.
How can we help you?
 Drain Cleaning Houston knows the way! 
 Drain Cleaning Houston also offers water damage cleanup services!  Whatever the cause of the water damage, we are there for you.

Why Choose Us?
We are fast and cost effective.
Other plumbing services may take even days just to respond to your inquiries but not us. We value time as much as you do. Drain Cleaning Houston offers speedy clean up services and options suited to the classification of the water damage to avoid more damage and hefty bills.
We are Experts.
Our team of experts is well trained in water damage restorations and clean ups. We use high tech equipment and procedures to control the water damage, preserve your properties, and wipe out health hazards.
We provide solutions.
Drain Cleaning Houston will also give you tips and teach you ways of how to prevent water damage in the future. We will help you get back and ensure that your home is safe and free from trouble.
So what are you taking so long?
Eliminate all the problems cause by water damage!
Grab that phone and call us now!
Our fast and efficient team of Drain Cleaning Houston will gladly clean up and restore your water damage problems in no time.  100% satisfaction guaranteed.